User Group Meeting
On June 12,13,14 2008 we held another User Group meeting. We discussed recent enhancements to RMS, CAD, Mobile CAD and the Field Reporting. TracNet considers user input of utmost importance in developing system enhancements. Last year with 100% of the agencies and more than 50 people in attendance, we had a productive meeting regarding future product features. Last year we counted the years of professional law enforcement experience. The total was 768 years!
Below is Ken Rolle presenting at the 2008 user group meeting.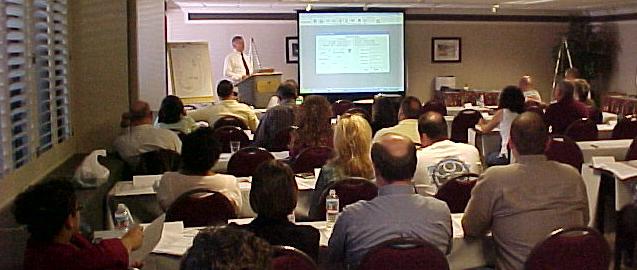 This years meeting included, on Thursday, a review of enhancements to CAD. On Friday we reviewed the Records Management System. In the RMS we covered over 50 enhancements made since the last users group meeting, including changes to Mapping, e-mailing and exporting images/audio files/scanned documents, and major changes relative to the DOJ E-CARS reporting. We had alot to cover. The major focus this year was on California DOJ criminal reporting requirements. We closed by discussing other user enhancements requested and\or in process. We then had a "round table" discussion to solicit user input for future enhancements and features.
The user group meeting was held for 3 days at the Portola Plaza in Monterey.

The accommodations were exceptional. The Portola Plaza's location provides plenty of options for the spouses of the law enforcement professionals in attendance. The affordable rates offered to the attendees made for a pleasurable weekend in Monterey ($84.00 per night). Additionally, TracNet provided passes to the Monterey Bay Aquarium for the groups wanting to see this world class attraction. Lunch Friday was held by TracNet at "Jacks" restaurant (located in the hotel) Again good weather made for enjoyable outdoor patio dining overlooking the Monterey harbor.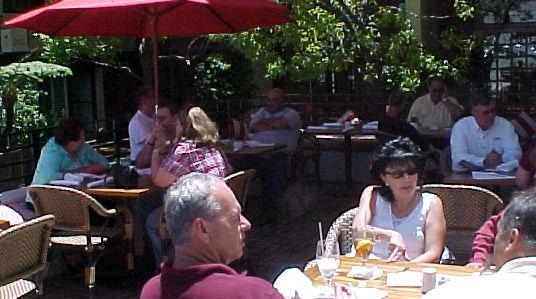 Having many years of law enforcement experience in one room talking about our products greatly assists us in guiding the future of TracNet! Again, those in attendance will receive a "Thank You" gift for helping make the TracNet system the best in Public Safety Software.